Jurassic World: Dominion Dominates Fandom Wikis - The Loop
Play Sound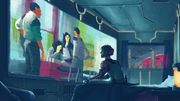 Without question, The Rise and Fall of Sanctuary Moon is Murderbot's favorite media. It was the first show Murderbot saw after hacking its governor module, and is its go-to comfort media when stressed, though it finds the sex-scenes boring.
In an interview, Martha Wells explained, "Rise and Fall of Sanctuary Moon is kind of based on How to Get Away with Murder, but in space, on a colony, with all different characters and hundreds more episodes."[1]
Murderbot picks the name 'Eden' while on RaviHyral because it was the name of one of the characters in Sanctuary Moon.
Episodes
[
]
There are at least 397 episodes (All Systems Red, Chapter 1).
Episode 44 (Compulsory)
The colony solicitor's bodyguard and best friend had just been crushed under debris while trying to save a transport mech trapped in a crash. Were they really going to kill her off? That sucked.
Episode 132 (Fugitive Telemetry)
Murderbot wanted to watch the beginning of this episode.
Episode 179 (Artificial Condition)
With the plot that gave ART the idea sending a shuttle of unconscious humans on a flight plan back to RaviHyral, where the authorities would be confused by their conflicting stories.
Episode 184 (Instagram AMA)[2]
Sparga Delfin had been replaced by a clone.
Episode 206 (Artificial Condition)
Murderbot has already seen this twenty-seven times.
Episode 231 (Instagram AMA)
A Mech Pilot was attacked by his evil duplicate, who then tried to hit him with a giant hammer before disappearing. Murderbot and ART disagree in the interview over whether or not this was supposed to be a dream sequence.
Episode 256 (Fugitive Telemetry)
32.3 minutes into the episode the relationship argument between the solicitor, her bodyguard and the personnel supervisor is cut off when a raider ship crashes into the shuttle bay.
Unknown Episode (All Systems Red)
The one where the colony solicitor killed the terraforming supervisor who was the secondary donor for her implanted baby?. Ratthi is also a fan.
Unknown Episode (Rogue Protocol)
... can offer you immunity from prosecution if you testify. Your bosses are going down. Whatever they paid you, it won't make up for a stint in prison. These lines are re-used by Murderbot.
Instagram AMA
[
]
In an Instagram AMA, ART and Murderbot were asked about Sanctuary Moon several times:
Murderbot's favorite story arc is "Season 28, the whole thing with the rival Corporate Supervisor, and when it turned out Sparga Delfin had been replaced by a clone in episode 184, and they had to go rescue them and all the clone babies."
Murderbot's favorite episode is "The one where they found out the Terraforming Supervisor was still alive, and behind the whole plot to deregulate the colony's mining franchise which had been blamed on the Colony Solicitor, so she and her bodyguard and the Mech Transport Crewmember and the Mystery Person from the level 7 airshaft and the Food Service Staffing Manager fake her death, and she comes to her own memorial service." (ART did not like this episode.)
Murderbot recommends the first episode as a gateway into the show because "It's the only one that gives all the detail about the Colony Solicitor's secret backstory as a corporate espionage agent/opera production manager and you need that to understand the rest of the story."
Murderbot has no endgame pairing for the show because it skips the pairing content.
References
[
]