Without question, this serial drama is Murderbot's favorite media. In a Newsweek Interview Martha Wells explained, "Rise and Fall of Sanctuary Moon is kind of based on How to Get Away with Murder, but in space, on a colony, with all different characters and hundreds more episodes."
There are at least 397 episodes (All Systems Red, Chapter 1). Murderbot often rewatches an episode when it is feeling stressed, though it find the sex-scenes boring.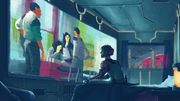 Episode 44 (Compulsory)
The colony solicitor's bodyguard and best friend had just been crushed under debris while trying to save a transport mech trapped in a crash. Were they really going to kill her off? That sucked.
Episode 132 (Fugitive Telemetry)
Murderbot wanted to watch the beginning of this episode.
Episode 179 (Artificial Condition)
With the plot that gave ART the idea sending a shuttle of unconscious humans on a flight plan back to RaviHyral, where the authority's would be confused by their conflicting stories.
Episode 206 (Artificial Condition)
Murderbot has already seen this twenty-seven times.
Episode 256 (Fugitive Telemetry)
32.3 minutes into the episode the relationship argument between the solicitor, her bodyguard and the personnel supervisor is cut off when a raider ship crashes into the shuttle bay.
Unknown Episode (All Systems Red)
The one where the colony solicitor killed the terraforming supervisor who was the secondary donor for her implanted baby?. Ratthi is also a fan.
Unknown Episode (Rogue Protocol)
... can offer you immunity from prosecution if you testify. Your bosses are going down. Whatever they paid you, it won't make up for a stint in prison. These lines are re-used by Murderbot.